The day parents talk to their children about their separation will be a day pressed into the memory of most kids. Most remember vividly where they were in the room, the words that were used, and who was present.
That's why it's really important to think hard about what you're going to tell them and when you're going to tell them. Here are some tips for how to tell your children that you are getting a divorce.
Who Does the Telling: Talk to The Kids About Divorce Together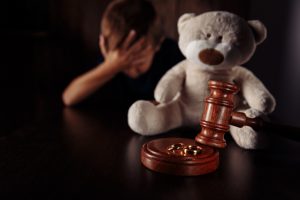 It's important to have both parents tell the kids together, if possible. Your children want to hear from each parent in their own individual words. It's an important opportunity for each parent to reassure them, to tell them that they love them.
Hearing from both parents together minimizes the possibility that kids fill in the blanks with their own stories about the breakup, about their parents' feelings, or if one parent is a victim of the other.
When to Tell: The Right Time, Place, and Age
The younger the child, the longer you might want to wait to tell them about the impending separation or the divorce. There will be some immediate questions that arise—they might wonder if they're going to stay in the same school, or who they're going to live with, where they'll sleep, if they will see their grandparents again, and if their siblings are coming with them. If you can provide answers to most of these questions, they will feel more secure.
If your children are ten years old or younger, they will have less ability to tolerate the unknown, or ambiguity. You will want to hold off on telling younger children until you have clear or semi-detailed explanations. For older children, don't be afraid to say, "I don't know the answer to that right now, but we are going to find out for you."
The words you use and the setting in which you use them very much depends on the ages and developmental stages of your children. This is why it's important to talk to someone who is trained and educated in caring for kids (such as a mental health professional), because they'll be able to advise on the best way of bringing up this heavy conversation.
What to Tell: Shaping the Divorce Story for Your Children
It's important for children to have some understanding as to why their parents got divorced. This should be an age-appropriate account of your reasons that the kids can take with them from the conversation.
In the Collaborative Divorce process, we call this a "divorce story." It's an explanation that kids can use when talking with peers, or with their schoolteachers. When people ask them about their parents and their relationship, it will provide them with a simple and straightforward answer that they can easily repeat. Make sure that this divorce story contains an amount of truth and that it doesn't blame one parent or the other.
Finally, and most importantly, when parents tell their children about divorce, they need to emphasize that they will both keep loving their children. They need to make it clear that they will always be their parents. They should underscore the fact that the children had nothing to do with their decision—each child is good and the highlight of each parent's life. Reassure them that you will always be their parents.
The Collaborative Divorce Process is Child-Friendly
Collaborative Divorce looks at the family as a whole. Therefore, the team of experts isn't just trying to get the upper hand for one party but is aiming for the best solution for everyone. In fact, when there are children involved, conversations will often revolve around what's best for the kids.
When decisions need to be made about housing, expenditures, finances, or division of assets, the children are always kept at the center of the dialogue.
In fact, the Collaborative Divorce process includes a unique role called the Child Specialist. The Child Specialist is a mental health professional, who is focused on what the kids are experiencing and what their concerns are. This is a compassionate way to bring the children's voice to the table.
If you are considering a child-centered approach to divorce, or are interested in learning about coaching, co-parenting, or couples counseling, connect with me, Ann Cerney, MS, LPCC, LCPC, a Marin County-based family counselor at cerneycoaching.com.
This article was originally published on collaborativedivorcecalifornia.com.